The UK economy saw just 1.7% growth in 2017 and inflation that exceeded the Bank of England's target, reaching 3.1%.
This has led to higher prices in the shops and a squeeze on consumers' budgets. But 2018 could be a better year as inflation is set to reduce and wages may start to rise.
Despite the positive forecast for 2018 spending, the year has so far seen a number of physical stores close down. It is likely that there will be acceleration in this respect.
More consumers are changing their shopping behaviour, moving towards online shopping in order to save time and ensure they get the best value for money – particularly given the performance of the economy.
GlobalData's E-commerce Analytics database shows that the UK is the largest e-commerce market in Europe, with a market size of £149bn ($209bn) and growth of 12.8% in 2017 compared to 2016.
Based on the current growth rate, it is expected that UK e-commerce will exceed £200bn by 2021. With e-commerce growing significantly, and more products and services expanding online, consumers have started looking for faster and more convenient ways to make payments online, and are increasingly turning to alternative payment tools to meet these needs.
In 2012, online card payments dominated with a 59.7% market share by value of transactions online, while alternative payment tools (dominated by PayPal) only held a 30.8% market share.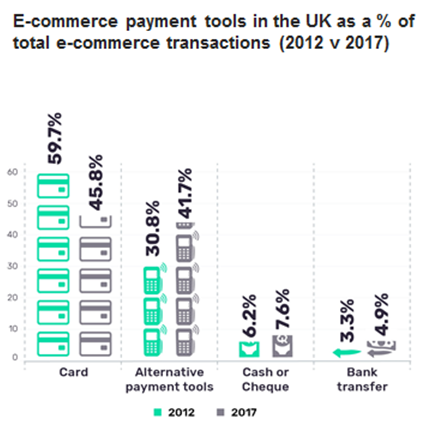 Over the last five years, however, numerous alternative payment methods have launched in the UK including Apple Pay, Visa Checkout, and Google Pay.
This, combined with consumers' greater appetite for convenience online and growing familiarity with alternative tools, has led to a shift towards alternative payment tools. This has translated into significant market share growth, reaching 41.7% (£62.4bn, up from £48.3bn in 2016) in 2017.
At the same time, card payments decreased to 45.8% (£68.6bn, up slightly from £68.4bn in 2016) of total online spending. Given these figures, the share of B2C e-commerce paid by alternative payment methods is expected to surpass cards by the early 2020s.
The growing digital channels are disrupting not only the retail landscape but also cash and card payment methods. Internet penetration has facilitated the growth in e-commerce, with 89% penetration in 2012 and 96% in 2017. Technology has innovated the way consumers shop online and pay for their products or services.
New players have entered the market thanks to this innovation. Consumers want a quick and frictionless payment process, and therefore having to enter their card details every time they purchase something online, or the unavailability of their preferred method of payment, can be frustrating and lead to shopping cart abandonment. Retailers need to understand the benefits of these alternative payments and work closely with payment processors, in order to ensure customers are happy when it comes to parting with their money.